I'm looking for two or three writers to join the Five Cantonas team. Three or four posts a week. Intelligent and realistic. Drop me a line; redben at fivecantonas dot com
We were all a little surprised at the start of the summer when Sir Alex offered Michael Owen a new deal. It was generally assumed that he would be on his way, and a number of clubs make their interest known. However, he signed on for another year and, given his promising form this pre-season, could make a telling contribution to the team.
Javier Hernandez has picked up a knock in training and looks to be out for three to four weeks whilst he recovers. This would probably have been the case anyway given his exploits at the Gold Cup and Copa America this summer. That gives Michael Owen a golden opportunity, a golden month, to prove his worth to United.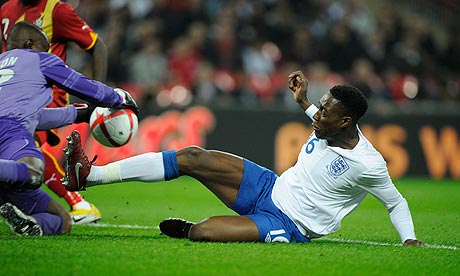 England failing miserably at finals tournaments isn't news. It happens with alarming regularity, perhaps because we're not half as good as we seem to think we are. However, the recent display at the European U21 Championships was particularly dismal. No wins, just two goals scored and an early flight home for the Young Lions can not have been what Stuart Pearce wanted.
Fortunately, from a Manchester United point of view the tournament is actually going rather well. Outside the England camp David De Gea, who has basically signed for us, saved a penalty against the Ukraine last night, and has looked assured throughout the tournament so far.
The news has emerged today that Michael Owen has been offered a new one year deal at the club and, as one would expect, has bitten Sir Alex's hand off. Of course, one would assume that if he's a success next season, his contract would again be extended.
Whilst it's always good to have natural goalscorers on the clubs books, Michael Owen divides opinion amongst United fans. Whilst none are foolish enough to doubt his pedigree or ability when fit, there are question marks that surround both his ability to stay fit for extended periods and what this means for the young players at the club.
Great news for Danny Welbeck today, as he is added to Fabio Capello's England squad as a replacement for the injured Aaron Lennon. Although the squad is heavily weakened by the return of Chelsea and Manchester United players to their respective squads, it still represents a fabulous reward for the youngster. He has been on great form for Sunderland this season, and now fulfills Sir Alex Ferguson's prophecy that Welbeck would soon make the England squad.
It ends the speculation surrounding Welbeck's international alleigance, with Ghana sniffing around the youngster. Instead, he may well make his debut against the Black Stars and Sunderland team mate Adamoah Gyan. This is good news for United as it means Welbeck's career will never be hampered by badly-timed continental tournaments in the way that Park Ji-Sung's and numerous Arsenal player's careers have been.
It also increases his transfer value, should we decide to use him as a makeweight in a deal for Jordan Henderson, although I personally don't see any sense in that move whatsoever.