I'm looking for two or three writers to join the Five Cantonas team. Three or four posts a week. Intelligent and realistic. Drop me a line; redben at fivecantonas dot com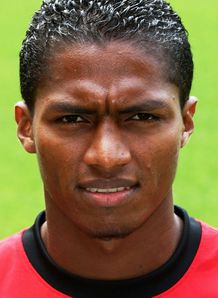 Antonio Valencia has signed a new contract at Manchester United, which will see him stay at the club until at least 2015. With rumours of interest from Juventus emerging over the weekend, Sir Alex Ferguson has moved quickly to secure the services of the Ecuadorian, who in turn revealed that he has no interest in leaving the club.
Juventus appear to be in the market for a winger, despite having the considerable talents of Milos Krasic at their disposal, and could now set their sights on Nani. Despite a superb first half of last season, Nani faded badly and Valencia was preferred in the Champions League final. With Ashley Young now at the club competition for wide places is fierce, and a healthy bid for Nani may well be accepted.
It's 24 hours since the final whistle blew at Stamford Bridge, and I am still absolutely buzzing about the result. Winning 1-0 there was absolutely beyond even my wildest dreams. I don't think I found a single United blogger predicting that we would win. Most of us seemed to go for 1-1, and the rest seemed to settle for a good 2-1 defeat with an away goal.
That we did it AND got to enjoy the Chelsea fans being totally shafted by the referee in the last minute makes it all the sweeter. How does it feel boys, how the fuck does it feel?
Of course, it would be folly to get carried away with things. I can't see Chelsea going the whole tie without scoring, which means that we'll have to get another at Old Trafford. I had visions of Nani clipping that 1 on 1 over Cech as he raced through, and at 2-0 it would have been a completely different proposition, but Chelsea still need to score twice to win. They're not going to want penalties. They're still shit scared of them.
Still, when we look back on this performance we will remember it for one thing above all else – Michael Carrick's emergence from the shadow cast by the boo-boys. Absolutely immense defensively, expansive, probing, and an absolutely perfect pass to Giggs in the build up to Rooney's goal. If Michael Carrick isn't the first name on the team-sheet in the run-in, then it better best be Nemanja Vidic.
I hope the irony of blaming the referee for the result is not lost on the Chelsea fans. They get the rub of the green match after match, year after year, and when they finally get one decision go against them, they all start bitching and moaning about how much of a disgrace it is. Well, sorry guys, welcome to our world. Besides, the foul was outside the box, even if no referee in the world is ever going to give a free kick in that situation. Penalties every time, as we saw against West Ham at the weekend.
Even without that, Chelsea didn't really threaten beyond periods of extended pressure. their one flurry of post and two goal-line blocks just before half time, and the wonder save Edwin made from Fernando Torres.
Fernando Torres. The boy looks completely, utterly destroyed by the way his Chelsea career has started. Absolutely lost. The fans are on his back, he's not sure that he has the support of his players or his manager, and he can't even begin to see where his next goal is coming from. Since he last scored he's hit the post, had goals disallowed, had shots cleared off the line, and seen Edwin claw out a header which, to be fair, was basically perfect. He must feel like going home every night, curling up into a little ball and dying.
His tepid performance made the decision to remove Drogba all the more puzzling. He was causing us all sorts of problems, and I was delighted to see the back of him.
Anyway, so what, he's not our problem. Up front, we don't have a problem. Wayne Rooney is once again firing on all cylinders, and looks almost back to his devastating best from last season. Dimitar Berbatov oozes class every time he comes on to the field and Javier Hernandez, even if he does struggle to make an impact in the more physical games, could score a goal at absolutely any moment.
Antonio Valencia doesn't look like he's been away. Likewise Park and, with Anderson scoring twice for the reserves this weekend, we have pretty much our full compliment of midfielders available. Just Fletcher out with his mystery virus.
This all bodes so, so well for the end of the season. Still, if we're even going to start breating the t-word, we have to follow this up with a win at the weekend. However ecstatic I am with this result, I will be more pissed off than that if we drop points. With our fixtures, we simply cannot.
Our form is fantastic, though. I'm sure we won't. Fingers crossed.
The last thing I wanted to be discussing this morning was the loss of yet another defender but, no sooner does Jonny Evans get himself fit and back into the team than he picks up a likely three-match ban for a red card.
Evans had, up until his dismissal, looked far more solid than he has otherwise this season, but now we are sweating on the return to fitness of Ferdinand, Vidic and friends after the international break. The worst case scenario seems to be that Wes Brown will be partnering the omnipresent Chris Smalling at the back, with Patrice Evra at left-back and Fabio or, perish the thought, Hargreaves at right-back.
The tackle itself has been done to death over the weekend, with all of the ABU's lambasting "filthy" Evans, but anyone with two rational brain cells to rub together seeing the tackle for what it was; two comitted players going for the same ball. Neither challenge was exactly textbook, but Evans got plenty of ball before getting Holden's knee.
Holden's challenge was very similar to Evans', and the injury could easily have been the other way around. It's a red card because Evans got the tackle wrong, but there was no malice. The fact that televisions biggest ABU Alan Hansen agrees with me should speak volumes. Jamie Carragher take note.
More than ever, I would like to ask what the fuck people's beef with Michael Carrick is? Carrick works hard, makes countless interceptions, keeps the play simple and keeps posession. He ticks our midfield over like nobody's business. Against Marseille in midweek, Carrick completed 54 of 58 passes. That's 93.1% of his passes. Only Scholes completed more passes, but at a completion rate of just 84.8%.
Twitter was full of idiots after the game slating Carrick and demanding to know when we were going to sign [insert world class defensive midfielder / Football Manager starlet here]. These idiots cannot have watched the game or, if they did, did so with the sole intention of slating Michael Carrick for failing to unlock the Bolton defense.
I hate to disappoint you clowns, but that's not Carrick's job. Carrick is there to break up play, pass the ball to the better players (Rooney and Nani) and hold his position and his discipline. If you want to turn around and blame someone for not unlocking the defense, then Rooney and Nani should be your scapegoats because that's their job.
Of course, Nani came good in the end, his shot being spilled for Berba to snatch the points, but Rooney swanned about all game looking vaguely threatening in a non-threatening way. Giggs, unfortunately, looks like he's slipping slowly but surely toward the knackers yard, and Valencia was quiet.
All these players are, for one reason or another, beyond reproach. Giggs has given us years of service and is one of our greatest ever players so, of course, we can't blame him. Rooney is the children's hero, and so will always be cheered regardless of any off-the-pitch antics which the kids probably don't even understand. Valencia is just back from a horrific injury so patchy performances are to be expected. Berba gets loads of shit too, despite being the league's top scorer.
So, given the above, why should it fall to Michael Carrick to win the game single-handedly for us? It's not Carrick who went to the manager crying about ambition and demanding a vast pay rise to match the wage offered to him by City. It's not Michael Carrick who is picked to torment wingers with pace and ability before providing a killer ball.
United kept Bolton at bay, rarely looking much like losing their clean sheet. THIS IS CARRICK'S JOB. If Manchester United do not conceed a goal, then Carrick has done what he is paid to do and is selected for. If Manchester United do not score a goal and you're into your scapegoating, then you have to turn to look at Nani and Rooney and Valencia and Hernandez and Berbatov and find your scapegoat there. Don't come to the defensive midfield looking for one, because you will leave either disappointed or looking very stupid when you open your mouth.
Don't get me wrong, I'm not trying to deflect blame away from anybody towards anybody else. We played badly against Bolton but came away with a win. We should be happy with this, and praising our players for their determination and never-say-die attitude. Instead we're slating our own players which is so fucking small time as to be almost untrue.
Teams do occasionally struggle. Hell, even Barcelona sometimes lose, but I'll bet you one thing. I bet none of their fans go slating Lionel Messi on twitter or calling for Sergio Busquets to be replaced as soon as the game ends.
It's quite a big step for me to admit that, at the moment, perhaps Dimitar Berbatov isn't part of our first XI. He's certainly not the man in form and, perhaps fatally, not the man with age on his side either.
It would be almost unthinkable in most scenarios to consider the leagues top scorer to be any team's third choice center forward, and it's certianly not a negative reflection on Berbatov as a player or as a bloke, as he's absolutely top bracket in both regards.
Part of the blame (if we are to call it that) must land at the feet of Sir Alex Ferguson, who has only sparingly given Berbatov the chance to shine in the big games this season. Mostly, however, it's down to both the sudden return to form of Wayne Rooney and the inexorable rise of little Javier Hernandez.
I love Berbatov, but last night was not made for him. We scored two great goals which exhuded the cut-and-thrust of our attacking play at it's best. The pace and movement of the front two and the wingers caused Marseille touble only sporadically, but when it did they were unplayable.
Pace and movement are two areas in which Berbatov does not excel, but Rooney and Hernandez base their entire games on being good in them. Rooney, when on song, dominates the space between the opposition lines much like Scholes, his range of passing second to none. Hernandez, on the other hand, is the master craftsman in the penalty area, possibly the most supremely talented poacher I have seen in many a year.
As an extra bonus, Antonio Valencia appears to have slipped seamlessly back into the team and is brilliantly linking with these two right from the off. Although admittedly we have no idea how he would meld with Berbatov this time around, this late in the season isn't the time for experimentation.
Instead, we get to ride the crest of a wave of striking form towards the three trophies that we're still in with a shout of winning. Whilst I still think we'll come unstuck against some genuine quality should we meet Barcelona or Real Madrid, if we manage to avoid those guys until the final (they could draw each other in the quarters or semi still) we could beat anyone in a one-off game.
In all honesty, it's becoming increasingly difficult to see where Berbatov fits in to our fast, and mobile front four. Could it be that he would be the best value player to sell in the summer? I'd date to see it happen because I love to watch Berbatov play, but selling Rooney now he appears to be back on form and interested again, for all my personal distate for the guy, would be footballing suicide.
Last night was far more nervy than it needed to be and, once again, you can say that we got bossed in the midfield for long periods, especially in the second half. Marseille have a plethora of huge physical defenders of African origin, although some (Taiwo) fall over way too easily.
Quite how Marseille failed to score I will never know. Their finishing was about as deadly as a bath plug, and there is a school of thought that we were lucky to get through. Indeed, if Gignac and Diawara had both taken their woefully wasted chances, it would have left us needing a further two goals in the second half to progress. Of course, goals change games, and if Gignac had levelled our opener so quickly who knows how the game would have panned out?
Smalling etc etc.
Speaking of the defense, we're now fucked again. With John O'Shea and Rafael out we have no fit right-backs. Wesley Brown can deputise, but it's hardly his preferred position, and Fabio is more accustomed to playing left-back, so with Vidic out for three weeks it remains to be seen what shows up against Bolton at the weekend. Probably Evra, Smalling, Brown and Fabio, unless there's a reserve we can chuck in. Wouldn't fancy it at this stage of the season though.
Just over two weeks after Arsenal laughably ranted about winning an unprecedented quadruple, Manchester United are now closing in on the possibility of another famous treble. Of course, the toughest leg will be the Champions league which, should United progress past Marseille, will involve beating Real Madrid or Barcelona. The other teams in the quarter finals will be (or are likely to be) Shakhtar, Tottenham, Schalke, Chelsea and Inter or Bayern. Tough but winnable.
Of course, we need to get past Marseille first. With our path to the FA Cup now set in stone, and our fate in the league in our own hands, could our failure to get an away goal in Marseille cost us at home?
It could, but that's without taking into account the fact that Marseille are a team in absolute disarray. One of their two main strikers, Brandao, has been fingered for rape and is not permitted to travel, so much will depend on the fitness of Pierre-Andre Gignac. It looks like he's going to miss out, so Loic Remy and Benjamin Ayew will be the main threats, players we know little about.
There is also the little matter of a fit Valbuena to worry about. Little Matthieu might look like his head is way too big and his arms way too short, but he's a top quality player and can hurt any team on his day. Let's not forget what he did to the dippers.
httpv://www.youtube.com/watch?v=yzY9QndLFjs&feature=related
Marseille also have a mean defence. They haven't conceded a Champions League goal in bloody ages, about five hours, so if we think we're just going to be able to knock them over at home then we have another thing coming.
None of this should detract from our own game plan, of course. We are on a high after our much needed win over Arsenal at the weekend, and with the return to fitness of Antonio Valencia, along with the unexpectedly rapid progress of Nani, we have the ingredients needed to beat Marseille, and comfortably.
Fletcher continues to be absent, but other than the usual long term absentees there are no other midfield issues as Carrick is fit. The improved performance of Darron Gibson on Saturday should see him retain his place, and one can only assume that the rest for Scholes means that he will be starting here. I also think Fabio should be retained from the start, keeping Tony available from the bench. The little Brazilian was a revelation on Saturday.
Wayne Rooney is showing signs of returning to his former glories, and Dimitar Berbatov, for whatever reason, doesn't seem to be trusted in European games, so I'm not expecting to see him start. Nani's remarkable return to fitness should see him start on the right.
The back five pick themselves, giving us the the team below, which I expect to see start tomorrow.
Marseille showed in the first leg that their main threat comes from pace down the flanks, so Rafael and Evra could be busy. Rooney, Fabio and Nani should be way too fast for a back line involving Gabriel Heinze, although our former player of the year did well in the first leg.
Five Cantonas Prediction
3-1. I think there will be an early scare when they equalise at 1-1, but we'll pull away in the second half and grab a third when they're chasing the game late on. Rooney, Gibson and… go on then, Valencia to score for us. Ayew for them.