I'm looking for two or three writers to join the Five Cantonas team. Three or four posts a week. Intelligent and realistic. Drop me a line; redben at fivecantonas dot com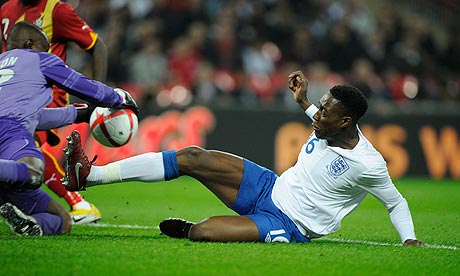 England failing miserably at finals tournaments isn't news. It happens with alarming regularity, perhaps because we're not half as good as we seem to think we are. However, the recent display at the European U21 Championships was particularly dismal. No wins, just two goals scored and an early flight home for the Young Lions can not have been what Stuart Pearce wanted.
Fortunately, from a Manchester United point of view the tournament is actually going rather well. Outside the England camp David De Gea, who has basically signed for us, saved a penalty against the Ukraine last night, and has looked assured throughout the tournament so far.
It's quite a big step for me to admit that, at the moment, perhaps Dimitar Berbatov isn't part of our first XI. He's certainly not the man in form and, perhaps fatally, not the man with age on his side either.
It would be almost unthinkable in most scenarios to consider the leagues top scorer to be any team's third choice center forward, and it's certianly not a negative reflection on Berbatov as a player or as a bloke, as he's absolutely top bracket in both regards.
Part of the blame (if we are to call it that) must land at the feet of Sir Alex Ferguson, who has only sparingly given Berbatov the chance to shine in the big games this season. Mostly, however, it's down to both the sudden return to form of Wayne Rooney and the inexorable rise of little Javier Hernandez.
I love Berbatov, but last night was not made for him. We scored two great goals which exhuded the cut-and-thrust of our attacking play at it's best. The pace and movement of the front two and the wingers caused Marseille touble only sporadically, but when it did they were unplayable.
Pace and movement are two areas in which Berbatov does not excel, but Rooney and Hernandez base their entire games on being good in them. Rooney, when on song, dominates the space between the opposition lines much like Scholes, his range of passing second to none. Hernandez, on the other hand, is the master craftsman in the penalty area, possibly the most supremely talented poacher I have seen in many a year.
As an extra bonus, Antonio Valencia appears to have slipped seamlessly back into the team and is brilliantly linking with these two right from the off. Although admittedly we have no idea how he would meld with Berbatov this time around, this late in the season isn't the time for experimentation.
Instead, we get to ride the crest of a wave of striking form towards the three trophies that we're still in with a shout of winning. Whilst I still think we'll come unstuck against some genuine quality should we meet Barcelona or Real Madrid, if we manage to avoid those guys until the final (they could draw each other in the quarters or semi still) we could beat anyone in a one-off game.
In all honesty, it's becoming increasingly difficult to see where Berbatov fits in to our fast, and mobile front four. Could it be that he would be the best value player to sell in the summer? I'd date to see it happen because I love to watch Berbatov play, but selling Rooney now he appears to be back on form and interested again, for all my personal distate for the guy, would be footballing suicide.
Last night was far more nervy than it needed to be and, once again, you can say that we got bossed in the midfield for long periods, especially in the second half. Marseille have a plethora of huge physical defenders of African origin, although some (Taiwo) fall over way too easily.
Quite how Marseille failed to score I will never know. Their finishing was about as deadly as a bath plug, and there is a school of thought that we were lucky to get through. Indeed, if Gignac and Diawara had both taken their woefully wasted chances, it would have left us needing a further two goals in the second half to progress. Of course, goals change games, and if Gignac had levelled our opener so quickly who knows how the game would have panned out?
Smalling etc etc.
Speaking of the defense, we're now fucked again. With John O'Shea and Rafael out we have no fit right-backs. Wesley Brown can deputise, but it's hardly his preferred position, and Fabio is more accustomed to playing left-back, so with Vidic out for three weeks it remains to be seen what shows up against Bolton at the weekend. Probably Evra, Smalling, Brown and Fabio, unless there's a reserve we can chuck in. Wouldn't fancy it at this stage of the season though.
It's criminal that I have waited until now to pust a reaction peice to this game, given how brilliant it was, and how much there is to discuss. That's what happens when you get ill, unfortunately. On the plus side, it's given me a couple of days to chew over the game, and certain performances, and any jerking of the knee has long since calmed.
Without wanting to burst everyone's balloon, we need to remember that this was just one game against the biggest bottlers of the Premiership era. Even Keegan's Newcastle team only really bottled it once – Arsenal are serial bottlers, throwing away trophies left, right and center as soon as they are in any danger of winning them.
We will learn a lot more about how much we're revitalized after the international break. Could it have come at a worse time? I fully expect us to ride the crest of the wave and sweep a crisis-torn Marseille side aside at Old Trafford and Bolton at the weekend, but we'd then absolutely love a run of Premiership games, thick and fast, to keep us interested, winning, and put the league beyond the reach of Arsenal and City.
Instead, we get to add a maximum of three Premiership points to our total before we have to watch a pointless England friendly against, of all people, Ghana, and what should be a walkover in qualification against Wales. Of course, given the privelage of seeing our Captain, Leader, Legend back in charge of the England side, so I should really be holding my tongue…
So, perhaps the most important game of the season now becomes our first game back, away at West Ham on Saturday lunchtime. Win that well, and we're all set for the run-in. I can't stress enough the importance of being clear by the time we have to play Arse and Chelsea.
Onto the Arsenal game itself. The first, and most obvious point, is that Fabio and Rafael were both absolutely outstanding. I think the fact that it was Tony who came on has let many people overlook the injustice of Fabio's withdrawal at half-time, and I have no doubt that if Valencia wasn't waiting in the wings for his comeback, he would have played most of the 90.
Fabio is showing the eye for goal that we were always told he had ever since Les Kershaw first slapped eyes on them. Both he and Rafael are also showing the versatility which will stand them in good stead at the club (case in point; John O'Shea) with their performance on the wing adding to Fabio's stint in central midfield for the reserves, a position also occupied by Rafael for the first portion of the second half.
Most importantly, they add the same tenacity to the flanks as Park Ji-Sung does, but without sacrificing any of the attacking threat. Now, Park is far too good a player to consider shipping out, but Ferguson now has options as to who to play out wide when up against a Bale or Nasri figure. In addition, should Nani be injured, the flanks will have fluidity if the da Silvas occupy them, with Evra and Valencia both capable of filling both spots when the da Silvas push on or drop deep.
I can't stress enough how promising the twin's performances were, and quite how beneficial the increase in options we now have is.
I don't want to upset my self by discussing this in too much depth, but Edwin van der Sar was awesome. I fully understand his decision to retire to look after his sick wife, and I'd prefer it if our fans let him be, because these chants asking him to stay can't be helping.
It's getting boring having to point this out every week, but Chris Smalling was again absolutely brilliant. Arsenal were restricted to a handful of second half chances, and you had to be paying rapt attention to notice the work of Smalling. Like all the great defenders he got everything done with the minimum of fuss, distributed well and restricted van Persie to just one chance in the first half.
Is it fair to suggest that normal service has now resumed from Wayne Rooney? The goals are flowing once again, his first touch is back, and he looks interested again. Keep it up Wayne. You'll have to do an awful lot to win my affections back, but you're certainly going the right way about it.
I'd also like to mention Darron Gibson, who was assured and capable in central midfield. In the absence of Carrick, I was fully expecting him to be scapegoated should we lose (even beyond the ranting that would have awaited Fergie for his team selection). Instead, Gibson looked comfortable on the ball and tenacious alongside the steady John O'Shea, who never looks overawed. Ever.
I was as horrified as the next man when I saw the team=sheet, but once again Fergie proves us all wrong. It was definitely an experiment, but it couldn't possibly have gone any better. Roll on Tuesday.
Chris Smalling has been exposed by The Sun newspaper today as a man who like eating burgers and laughing.
The shameful revelation comes the morning after Smalling was shockingly found in a hotel suite, surrounded by friends, listening to music and having a good time. In a damning twist, it is also reported that there were girls present.
Smalling had played in Manchester United's game against Chelsea a few short hours before, giving away a penalty in his team's 2-1 defeat. Amazingly, Smalling did not go to bed and cry himself to sleep, opting instead to spend an evening with his friends from London whilst he was in the area. However, things soon got out of hand. Plates of chips were passed around from reveller to reveller, and Amaretto were consumed.
The final straw was the accidental cosmetic damage to a wardrobe. When a hotel manager remonstrated with the group, a small number of revellers, but not Smalling, were unhappy with him. They shockingly and unbelievably did not want their posh party to end.
As a result, Smalling has been banned from ever setting foot in London again, fined £3m by his club, and given a nine month ban from all forms of football, recreation and excersise. Alternatively, perhaps The Sun are exaggerating a story once again. You decide.
Yes, Luiz should have been off, yes, we should have had a penalty in the first half and yes, another fucking 50 50 decision goes against us.
Let's not get carried away, though. This is nowhere near the disaster that losing at Wolves was, and we recovered from that well enough. Let's put some perspective on things.
Manchester United haven't won at Stamford Bridge since 2002. In that time, we've won 4 titles. It's hardly the be all and end all of the entire season. Yes, we're going to have to put up with more rentboy gloating, but it's nothing we're not used to. Besides, they don't have a little 1 next to their teams name in the table. We do. So they can STFU.
Secondly, if I'd come to you on August 1st and told you that on March 1st, 7 months later, you'd have lost twice in the league, you'd both have been pretty happy with that and expected Chelsea away to have been one of those games. On that note, it's not all bad.
Lastly, if we play like we did in the first half against most of the shit in this league, we'd be 2 or 3 up at half time. Home and dry.
As for the game, it was unfortunately typical United away. We did well in the first half, but then got absolutely overrun in the second half. Essien, I player I envy in the extreme, started to boss things, and Ramires looks ten times the shy, ineffective loser he did in the late summer. Put that against Scholes, Carrick and Fletch, stuck out on the right, and unfortunately there's no contest.
Scholes needs a boss alongside him – that's what we bought Hargreaves for – and Carrick is not a boss, he is a ball-playing centre mid doing a job in the holding role. It's not his natural role, but he does alright. Pit that against Frank Lampard, who annoys me so, so much by being shit but still good, and Essien who would get into any team in the world, and there's only ever going to be one side coming out on top.
The need for a boss is why we've been liked to players like Tiote. We're absolutely crying out for one.
I'd also like to laud David Luiz. What a player he looks! Although he should have been sent off, he was dominant, composed, imposing physically (some United fans would call it bullying, but when Vida does it it's fine) and took his goal well. He brings the ball out of defence with the composure and intent that Rio at his best does, and Smalling shows signs of doing.
Difference is that we don't have £xxm or roubles or whatever to go and spend on the finished article. Penalty aside (which was unlucky, he just got caught in the wrong place at the wrong time) Smalling was again superb. He could well become the player Luiz looks to be.
Torres still looks lost. Never mind what the cockney bastards on Sky think, he still looks woefully short of form and touch, and barely threatened the goal. Drogba, a player I despise, showed more in his short cameo than Torres has since he joined the club.
So, overall, the same old problems came to haunt us again, but we shouldn't be too disheartened. We need to put this game behind us and get on with our season, because we're yet to see how Arsenal react to losing the League Cup. They WILL drop more points – we need to make sure we don't. We are still in the driving seat, and 19 is just a couple of months away.
It's not snowing anymore, and that means that, this time, the rentboys have nowhere to run or hide. Manchester United are heading to the bridge tonight, and I think that we're going to do them.
I wasn't this confident before the Arsenal game we won 1-0, or any of the City / Liverpool games we've played this season. I tend to err on the side of caution, expecting us to draw most of these big games.
Not so this time out, against an out-of-sorts Chelsea team who lately have been behaving like even bigger tossers than usual. Not content with signing the greatest ladyboy ever to play football for far too much, and pissing off their main man in the process, they have continued to play shit and plunged new depths of behaviour.
Carlo Ancelotti is clinging on to the reigns, no more in control than a cowboy over a rodeo bull, as the players run rough-shod over his rule, like the self-centered and entitled arsewipes that they are. In scenes so incredibly ludicrous I at first thought they were biting satire, Ashley Cole actually shot a work experience student with an air rifle this week. That's right. Ashley Cole shot someone.
Of course, you'd never know, because Wayne Rooney also ebowed someone on a football pitch within the past few days. This, clearly, is a far bigger crime than shooting someone (and attempting to hide the incident from the police and hospitals…) and worthy of all the column inches it has been given.
A crime that you or I would get jailed for is simply swept under the carpet. Just like that. No wonder the rentboys behave like dicks. They're positively encouraged to by their management. Remember John Terry's "charity" tours?
Anyway, the game. Torres is going to fancy his chances of once again bending over Vidic and fucking him sideways. I don't think he'll have the same joy he's previously had, however. Vida is on an imperious run of form, and with the fresh and confident Chris Smalling alongside him, I think they will have enough between them to snuff him out.
Anelka is the one I'm worried about. He seems to be doing well and, if anything, Torres' arrival has given him more space from which to profit. I don't expect him to be afforded this space tonight.
Fergie has been playing Gibson lately, which to me gives the biggest indication that he's not intending to play him tonight. I have also been nonchalantly saying that the defence picks itself then seeing O'Shea preferred to Rafael. I'm not John's biggest fan, but he's done well recently and can now be classed as "experienced". I see no reason that he won't start again. That leaves Vidic, Smalling and Evra elsewhere.
We're almost certainly going here in a 4-5-1, with Scholes, Carrick and Fletcher playing. That leaves Nani on the right and, whilst we've still got injuries and Giggs is doubtful, Rooney on the left with Berba up front.
The only other option available would be to bring Gibson in for Fletcher, or put Nani on the left, Fletcher on the right and play 4-4-2, but since when did we play 4-4-2 in the big away games? I've probably also called the right-back position wrong again, but there we go.
I expect Chelsea to set up as they have been of late, stringing five across the midfield, albeit with one of those being Anelka playing in a very advanced role. The Drog won't start, because with the shit he's been talking this week Ancelotti surely won't e able to bow to player power, because that would send the message that he's completely lost his team.
Although John Terry and David Luiz are yet to settle as a center-back pairing, the same could be said of Vidic and Smalling, so this isn't particularly an advantage we have. Ashley Cole, tosser that he is, is also a very good left back who will do his best to silence Nani. Because of this, the way that Ivanovic handles Rooney, and the performance of Berba (should he get service) will be absolutely key to deciding this game.
I can't see us losing. Perhaps another draw. I doubt it will be goal-less though. With Chelsea's season in disarray, this is all that's left for them to play for unless they can avoid Barcelona in the Champions League. They're going to be up for it. They're goint to come after our blood.
Five Cantonas Prediction
We're going to suck up everything they throw at us early, hit them on the break, and come out 3-1 winners. I'm THAT confident.
I must have missed the part where Wayne Rooney made a grovelling apology for his transfer request without blaming someone else. I must have missed the months of stellar form in the lead-up to yesterday's game. I must have been fast asleep and dreaming when he said that he was leaving for a club with ambition and that Fergie had lied about his injury, and I must be stupid, a cunt and "not a true fan". Read the rest of this entry »