I'm looking for two or three writers to join the Five Cantonas team. Three or four posts a week. Intelligent and realistic. Drop me a line; redben at fivecantonas dot com
People love comparing Nani to Ronaldo. They seem to do so at every opportunity, no matter how relevant. They also tend to come up with the conclusion that Nani is better than Ronaldo at the moment, which is mental and incredibly disrespectful to our greatest player since the 60s.
Both joined us from Portugal at a young age, but are vastly different players. Ronaldo was a complete forward, Fernando Torres on steroids, able to play absolutely anywhere across the attacking third including as a target man. Nani looks like little boy lost any time he sails harbour out on the right wing without the ball at his feet.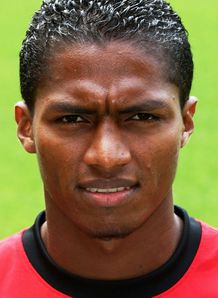 Antonio Valencia has signed a new contract at Manchester United, which will see him stay at the club until at least 2015. With rumours of interest from Juventus emerging over the weekend, Sir Alex Ferguson has moved quickly to secure the services of the Ecuadorian, who in turn revealed that he has no interest in leaving the club.
Juventus appear to be in the market for a winger, despite having the considerable talents of Milos Krasic at their disposal, and could now set their sights on Nani. Despite a superb first half of last season, Nani faded badly and Valencia was preferred in the Champions League final. With Ashley Young now at the club competition for wide places is fierce, and a healthy bid for Nani may well be accepted.
I have just sat through a fairly insipid (albeit not completely inept) performance against Newcastle United, and the one thing that stuck out like the sorest thumb in the whole fucking world was how utterly crap Nani was for most of the time he was on the field. We've all been screaming blue murder at the PFA for making Gareth Bale, who hasn't kicked a football straight since January, their Player of the Year, and yet in the past month Nani's form has fallen off the same cliff just as badly.
By way of comparison, Gareth Bale hasn't scored a goal since New Years Day, and his solitary assist this season came on Boxing Day. Nani made two against Fulham in the last League game and is on about six million assists this season. It's all very well being a flat track bully, however. The great players are judged by their performances in the great games and, where Ronaldo can look back on a goal in the Champions League final, FA Cup Final, a brace away to Arsenal etc etc, which huge games has Nani won for us?
Before you throw the vegetables at me, I'm not being lazy and comparing the two because Nani is "the new Ronaldo". Nani aspires to be at the same level as Cristiano was whilst playing for us, of that there is no doubt. To do that, you have to achieve the same kind of things Christiano did. Remember, Ronaldo was as reviled by the ABU crowd as Nani is now, but that didn't stop him picking up two deserved PFA Awards for the two seasons he was completely untouchable. That is because, when the chips were down, Ronnie would come up with something for us.
In contrast, it seems that when the chips are down, Nani goes into hiding. He will sit on his wing, happy to do a few step-overs and have a shot from range. He will stop still in front of defenders and allow the center-backs to organize. He will beat a full-back once, twice… and then lose it the third time he tries to do them. He will pass to Ryan Giggs instead of John O'Shea, because he doesn't think JOS is good enough to share his wing. Never was this more apparent to me than on Saturday, and his reaction to the pressure placed on us to win tonight confirms what I'm worried about.
I think that Nani has some fatal personality flaws which, for all his obvious talent, will prevent him from ever being a truly great player.
There you go. I went and said it. Our best player this season, certainly going forward, and we're top of the league, and yet I'm saying he's not up to it. I must be mad?
About six weeks ago, Nani moaned to the Portuguese press that he's not allowed to do tricks at Manchester United because Sir Alex Ferguson makes him play properly. This was at the height of his form, when he was tearing teams a new one every week and carving the league a new one. At the time I pointed out that this was a daft and childish thing to say whilst he was enjoying the form of his life – surely there is some sort of correlation between him playing properly and actually playing well?
Cristiano (him again) started life at United as a clone of Nani in many ways. Outrageously gifted, wasteful, unbelievably pacy, petulant, athletic, lazy. Gary Neville, by getting in his ear when he did bad stuff and being the first to praise him when he did well, can take a share of the credit for taking the kid from Funchal and turning him into the man with the footballing world at his feet. It's a two way process though. For all of Neville's talking, Ronaldo had to listen, learn and act. Can you see Nani listening to John O'Shea?
Instead, I can see Nani continuing to do thousands of step-overs, blissfully unaware of the fact that, as pretty as it looks in the five square feet around his twinkling toes, it makes the rest of our attacking moves pretty fucking ugly. Javier Hernandez, a player who thrives on quickly darting into space and snaffling chances, isn't going to threaten when Nani has beaten Jose Enrique six times and then hung one up for Coloccini to head out. And then telling John O'Shea to fuck off when he asks why there was no pass.
There is also the issue of Nani not wanting to shoulder the burden when there are others who can do it for him. Whilst Ronaldo was at the club, Nani was quite happy to let Ronaldo run the show, and put in a few impudent cameos here and there. One FA Cup (I believe?) game against Arsenal (Chelsea?) stands out. The one where he juggled the ball and got kicked by Gallas. He was brilliant in that. Which made his usual flat performances even more frustrating. He was quite happy for Ronaldo to take responsibility.
Now, his sparking form coincided with Antonio Valencia's injury, Park being away, Giggs being used in the center… when there was no competition for places, when all of a sudden Nani had to do it all, he was fabulous. Brilliant for months. But now Valencia is back, he seems happy to let Valencia do his job for him. Nani isn't one who will take the responsibility. It has to be thrust upon him.
Unfortunately, when you do that, you get the sort of selfish, arrogant performance you got today. In the big games and the pressure games there have been far too many of them. He's still only a young player, admittedly, but Ronaldo had won the Ballon d'Or and the FIFA World Player of the Year by Nani's age. Time is fast running out for him to really kick on and become great. He's got another two seasons before he will blow the chance to become great, and will have to settle for just being very good.
With that in mind, and with another of our dire needs highlighted today, would this summer be the worst time to move Nani on? Inter Milan are reputed to be interested and, with Valencia effectively occupying the same position as Nani, would it be the worst time to swap him with Wesley Sneijder and introduce some much needed creativity into the centre of our park?
I would love Nani to be a Manchester United great as much as the next Red, but there's just too much about the guy that gets to me. His petulance, his diving, his unwillingness to stand up and be counted… these are not the attributes of a great Manchester United player. The player he aspires to be. Whilst he still has all of my good will, he'll find it fast running out if he doesn't shape up soon.
Of course, you're all probably going to dig this piece up again in a month after he's won the Champions League final single handedly against Barcelona and wave it in my face telling me that I'm fucking stupid and should STFU. To be honest, I hope you do. I'd love that to happen. I just worry. I'm worried that this wildly talented lad is just cruising through his career, when he should be charging, full steam ahead, towards trophies galore in the red of Manchester United.
The PFA have announced their shortlist for the Player of the Year gong and, surprise surprise, Nani and Berbatov have both been omitted from the list. Samir Nasri, Charlie Adam, Carlos Tevez, Gareth Bale, Scott Parker and our own Nemanja Vidic make up the final shortlist. Apparently being top scorer in the league without taking any penalties and creating the most goals in the league are not enough to warrant a place on this list.
Almost insultingly Nani makes the Young Player of the Year shortlist, along with Jack Wilshere, Joe Hart, Seamus Coleman and the aforementioned Bale and Nasri. Definitely insultingly, there is no place for Javier Hernandez.
We really shouldn't be surprised, though, because the PFA awards are voted for by players, and players are as much fans as we are, with a little bit of professional jealousy mixed in for good measure. They are a glorified popularity contest, and when did Manchester United ever win any of those? What player from Leeds, for example, will vote for a Manchester United player?
Whilst Nemanja Vidic might well take the Player of the Year award, and rightly so, you can't help but worry that people who don't understand football (and plenty of footballers don't) will be flocking to vote for the permanently injured Gareth Bale because he had a decent August and September or Charlie Adam / Scott Parker for "battling the drop". I can't see Nasri winning because his form has fallen off a cliff since the start of the season, much like Carlos Tevez.
Nani would walk the young player of the year but for the fact that he's not a young English player. As such, Jack Wilshere's "emergence as an international" should see him rank ahead of Nani (nine goals, thirteen assists, 45 caps to his name already) because he plays for the popular and fashionable Arsenal side. That, in itself, should tell you how much of a joke these individual awards are.
Football is a team sport, and giving out individual awards makes as much sense as presenting Domino's Pizza gongs for their pepperoni alone. Regardless, this last week has shown the contempt in which we are held by the footballing media, supporters around the country, the English game's governing body and even the players in the Premiership themselves.
I wouldn't get too uptight about it though. You can bet that, if we didn't win so many trophies as a team, Nani and Berbatov would be at the top of the list. What player, when our lads are already so trophy-laden, is going to vote to give one of them them yet another?
Nani is whingeing today that he doesn't get to play like a spoiled kid on the playground whilst representing Manchester United in tight games.
"I try to enjoy playing now, but it is not always possible because I have a responsibility to the team. But something of the street remains in me. It is not easy to show at United because Sir Alex does not allow very much freedom and I cannot do the tricks and things I did with my friends. But when the game is under control I take a risk and it makes me very happy if things work out."
In other words, Nani wants to go back to playing in the erratic, frustrating way he was playing two years ago, when he was warming the bench for us and generally deemed to be a failure. Playing that way got him to the brink of being sold, and it is this added discipline and end product that has turned him into the most dangerous winger in the league.
I'm worried that he thinks that, now that he's had two thirds of one excellent season, he can start doing whatever he likes. I guess we'll learn more when we see what wage he extends his contract for.
For him to turn around and suggest that he should be allowed to play like he can on the street for Manchester United is completely wrong. If he wants to do stupid tricks that don't do anything, then do them in training on John O'Shea and have a laugh then. If you want to do tricks that work, that's fine too. We never had a problem with Ronaldo doing them.
But if you just want to fuck about doing millions of stepovers and backheels to the detriment of the team beacuse it makes you happy, then do one. Not interested. Remember when he took the piss out of Arsenal with a seal dribble? Yeah, great, but William Gallas almost put him out for months in revenge.
Just play football, and play it properly. Doing that has put you in with a shout of winning player of the year. If you don't fuck up you could go on to be player of the decade.
The last thing I wanted to be discussing this morning was the loss of yet another defender but, no sooner does Jonny Evans get himself fit and back into the team than he picks up a likely three-match ban for a red card.
Evans had, up until his dismissal, looked far more solid than he has otherwise this season, but now we are sweating on the return to fitness of Ferdinand, Vidic and friends after the international break. The worst case scenario seems to be that Wes Brown will be partnering the omnipresent Chris Smalling at the back, with Patrice Evra at left-back and Fabio or, perish the thought, Hargreaves at right-back.
The tackle itself has been done to death over the weekend, with all of the ABU's lambasting "filthy" Evans, but anyone with two rational brain cells to rub together seeing the tackle for what it was; two comitted players going for the same ball. Neither challenge was exactly textbook, but Evans got plenty of ball before getting Holden's knee.
Holden's challenge was very similar to Evans', and the injury could easily have been the other way around. It's a red card because Evans got the tackle wrong, but there was no malice. The fact that televisions biggest ABU Alan Hansen agrees with me should speak volumes. Jamie Carragher take note.
More than ever, I would like to ask what the fuck people's beef with Michael Carrick is? Carrick works hard, makes countless interceptions, keeps the play simple and keeps posession. He ticks our midfield over like nobody's business. Against Marseille in midweek, Carrick completed 54 of 58 passes. That's 93.1% of his passes. Only Scholes completed more passes, but at a completion rate of just 84.8%.
Twitter was full of idiots after the game slating Carrick and demanding to know when we were going to sign [insert world class defensive midfielder / Football Manager starlet here]. These idiots cannot have watched the game or, if they did, did so with the sole intention of slating Michael Carrick for failing to unlock the Bolton defense.
I hate to disappoint you clowns, but that's not Carrick's job. Carrick is there to break up play, pass the ball to the better players (Rooney and Nani) and hold his position and his discipline. If you want to turn around and blame someone for not unlocking the defense, then Rooney and Nani should be your scapegoats because that's their job.
Of course, Nani came good in the end, his shot being spilled for Berba to snatch the points, but Rooney swanned about all game looking vaguely threatening in a non-threatening way. Giggs, unfortunately, looks like he's slipping slowly but surely toward the knackers yard, and Valencia was quiet.
All these players are, for one reason or another, beyond reproach. Giggs has given us years of service and is one of our greatest ever players so, of course, we can't blame him. Rooney is the children's hero, and so will always be cheered regardless of any off-the-pitch antics which the kids probably don't even understand. Valencia is just back from a horrific injury so patchy performances are to be expected. Berba gets loads of shit too, despite being the league's top scorer.
So, given the above, why should it fall to Michael Carrick to win the game single-handedly for us? It's not Carrick who went to the manager crying about ambition and demanding a vast pay rise to match the wage offered to him by City. It's not Michael Carrick who is picked to torment wingers with pace and ability before providing a killer ball.
United kept Bolton at bay, rarely looking much like losing their clean sheet. THIS IS CARRICK'S JOB. If Manchester United do not conceed a goal, then Carrick has done what he is paid to do and is selected for. If Manchester United do not score a goal and you're into your scapegoating, then you have to turn to look at Nani and Rooney and Valencia and Hernandez and Berbatov and find your scapegoat there. Don't come to the defensive midfield looking for one, because you will leave either disappointed or looking very stupid when you open your mouth.
Don't get me wrong, I'm not trying to deflect blame away from anybody towards anybody else. We played badly against Bolton but came away with a win. We should be happy with this, and praising our players for their determination and never-say-die attitude. Instead we're slating our own players which is so fucking small time as to be almost untrue.
Teams do occasionally struggle. Hell, even Barcelona sometimes lose, but I'll bet you one thing. I bet none of their fans go slating Lionel Messi on twitter or calling for Sergio Busquets to be replaced as soon as the game ends.
That game was HORRIBLE. I haven't been so bored watching United since we last played that bloody team in yellow. It was to be expected I suppose. Our record in France is as bad as tonight's game was, so no doubt Fergie got what he came for.
It's a little frustrating because, without Gignac and Valbuena, you have to feel that Marseille were there for the taking. They should offer more in the second leg going forward, which should be of concern because they have a very effective (huge, African) back four.
I still think we're favourites though. Fairly comfortable ones, but we all know about the damage that one away goal can go. We will need to be positive but balanced in the second leg.
Loading ...
I was relatively impressed by Gibson, but he wasn't and never will be a fitting replacement for Paul Scholes. The gulf in class between the two was apparent when Scholsey came on for his cameo.
Nani has the beating of Heinze, who looked woefully short of pace going back. Odd, considering he was actually a fairly effective outlet going forward. I expect him to make mincemeat of the mincing Argie at Old Trafford.
Other than that, in terms of lessons learned, things to take, incident… beats me. There are probably some awesome goals from South America you can watch over at 101 Great Goals. Go there instead. Don't waste any more time on Manchester United away to Marseille.
I must have missed the part where Wayne Rooney made a grovelling apology for his transfer request without blaming someone else. I must have missed the months of stellar form in the lead-up to yesterday's game. I must have been fast asleep and dreaming when he said that he was leaving for a club with ambition and that Fergie had lied about his injury, and I must be stupid, a cunt and "not a true fan". Read the rest of this entry »