I'm looking for two or three writers to join the Five Cantonas team. Three or four posts a week. Intelligent and realistic. Drop me a line; redben at fivecantonas dot com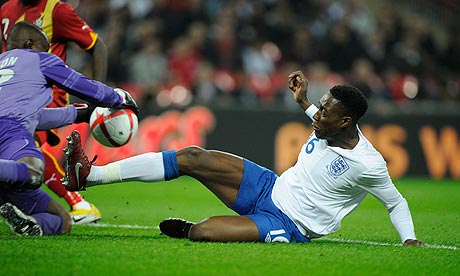 England failing miserably at finals tournaments isn't news. It happens with alarming regularity, perhaps because we're not half as good as we seem to think we are. However, the recent display at the European U21 Championships was particularly dismal. No wins, just two goals scored and an early flight home for the Young Lions can not have been what Stuart Pearce wanted.
Fortunately, from a Manchester United point of view the tournament is actually going rather well. Outside the England camp David De Gea, who has basically signed for us, saved a penalty against the Ukraine last night, and has looked assured throughout the tournament so far.
Of the Young Lions, only three players can come away with any sort of credit from the tournament. Danny Welbeck, although not at his best, was the only England player to find the net, with a crucial equalizer against Spain and what would have been a wonderful winner against the Czech Republic but for a fortunate ricochet down the other end. If Danny keeps his eye for goal over the summer, he could play a role for United next season.
It wasn't the best tournament for Tom Cleverley, and no doubt many will be scratching their heads as to what all the fuss is about. Being played out of position didn't help matters, but when his opportunities came along he was quiet. More will be expected if he is to contribute to United's cause next season.
The headlines, however, have been reserved for Jones and Smalling. I have already posted about how perfect a partnership they seem to be, but having seen it in action, I'm even more excited. They're both comfortable on the ball, physically imposing and fast. Jones' reading of the game is utterly terrifying, and Smalling isn't far behind in that respect. Given how poor England were at retaining posession, perhaps down to our outdated reliance on a technically inferior midfield anchor, the duo had plenty of work to get through, and they got though it with relish.
Even when he's not at the tournament, Jack Wilshere manages to be a bit of a dick. After the final whistle he tweeted "Oh no! Gutted for the lads" or something along those lines. Obviously not gutted enough to actually bother going out there and helping the lads, ey Jack?
Sorry, I must be forgetting that you're the only player that suffers from "fatigue". At least Andy Carroll had the good grace to keep his gob shut.
Edit: On reflection, Kyle Walker did alright and was our best player against Spain. I don't get Henri Lansbury though. Very, very average and, despite giving the ball away lots, was raved about whenever he lumbered onto the field.