I'm looking for two or three writers to join the Five Cantonas team. Three or four posts a week. Intelligent and realistic. Drop me a line; redben at fivecantonas dot com
People love comparing Nani to Ronaldo. They seem to do so at every opportunity, no matter how relevant. They also tend to come up with the conclusion that Nani is better than Ronaldo at the moment, which is mental and incredibly disrespectful to our greatest player since the 60s.
Both joined us from Portugal at a young age, but are vastly different players. Ronaldo was a complete forward, Fernando Torres on steroids, able to play absolutely anywhere across the attacking third including as a target man. Nani looks like little boy lost any time he sails harbour out on the right wing without the ball at his feet.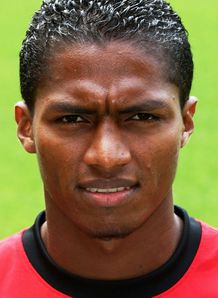 Antonio Valencia has signed a new contract at Manchester United, which will see him stay at the club until at least 2015. With rumours of interest from Juventus emerging over the weekend, Sir Alex Ferguson has moved quickly to secure the services of the Ecuadorian, who in turn revealed that he has no interest in leaving the club.
Juventus appear to be in the market for a winger, despite having the considerable talents of Milos Krasic at their disposal, and could now set their sights on Nani. Despite a superb first half of last season, Nani faded badly and Valencia was preferred in the Champions League final. With Ashley Young now at the club competition for wide places is fierce, and a healthy bid for Nani may well be accepted.
Nani is whingeing today that he doesn't get to play like a spoiled kid on the playground whilst representing Manchester United in tight games.
"I try to enjoy playing now, but it is not always possible because I have a responsibility to the team. But something of the street remains in me. It is not easy to show at United because Sir Alex does not allow very much freedom and I cannot do the tricks and things I did with my friends. But when the game is under control I take a risk and it makes me very happy if things work out."
In other words, Nani wants to go back to playing in the erratic, frustrating way he was playing two years ago, when he was warming the bench for us and generally deemed to be a failure. Playing that way got him to the brink of being sold, and it is this added discipline and end product that has turned him into the most dangerous winger in the league.
I'm worried that he thinks that, now that he's had two thirds of one excellent season, he can start doing whatever he likes. I guess we'll learn more when we see what wage he extends his contract for.
For him to turn around and suggest that he should be allowed to play like he can on the street for Manchester United is completely wrong. If he wants to do stupid tricks that don't do anything, then do them in training on John O'Shea and have a laugh then. If you want to do tricks that work, that's fine too. We never had a problem with Ronaldo doing them.
But if you just want to fuck about doing millions of stepovers and backheels to the detriment of the team beacuse it makes you happy, then do one. Not interested. Remember when he took the piss out of Arsenal with a seal dribble? Yeah, great, but William Gallas almost put him out for months in revenge.
Just play football, and play it properly. Doing that has put you in with a shout of winning player of the year. If you don't fuck up you could go on to be player of the decade.
The reports coming out today suggest that Antonio Valencia is going to be back in the Matchday squad on Saturday are brilliant to hear.  Whilst he's unlikely to hit the ground running from the word go, Valencia is a massive player for us, both in terms of the performances he puts in and the shape he gives us.
With the injury problems we have had this year, and Giggs changed role, our only attacking winger of Premiership quality has been Nani. During the brief cameos from Bebe and Obertan, we've seen that they have promise but aren't there yet. Given the fact that we have no attacking midfielders, this means that almost all of the teams creativity before (and often inside) the final third has to come from Nani.
This means that Nani has to wander all over the place to get the ball and get at teams and, as a result, our whole attacking unit looks blunted. Unless Nani can get to the ball, or the ball can get to Nani, things don't happen. Similarly, if Nani is having an off-day, or is being effectively man-marked we struggle.
However, when Valencia plays, Nani is able to concentrate much more on winning the duel with his full-back as he doesn't have to do everything himself. If Nani is having a bad game, then Valencia might be having a great one, and we still threaten.
The top one shows Nani during the first 70 minutes of our home game against Fulham 12 months ago. Valencia was on the other wing, and as such Nani was able to hold the shape of the team, and we ended up easy 3-0 winners. The chalkboard stops at 70 minutes as Valencia was taken off, and Nani wanders thereafter.
With Valencia on the other wing, United pose dual threats, even before we consider an in-form Wayne Rooney up top. Teams can either only afford to put one man each on the pacy and tricky wingers, or lose their attacking outlets by asking their wingers to double up with their full backs. Either way, United win.
The bottom board (the one that looks like a child has flicked a paintbrush at a snooker table) shows Nani all over the place in our messy 2-2 draw with Villa this season. He didn't have Valencia on the opposite wing that day (Park was there initially), and went looking for the ball. It wasn't one of his better days, and Villa raced into a 2-0 lead that we were lucky to escape from.
With Nani trying to orchestrate everything going forward, it's easy for opposition teams to shadow him with a defensive midfielder, in addition to whichever full-back he ends up taking on.
Now, Nani has enough quality to trouble any back line going, but he's not superhuman. He is fallible. Therefore, I think Tony will be vital to our run in. It's on those rough days for Nani that having someone the quality of Valencia opposite him makes all the difference. Whereas this season we've missed Nani when he's been off song, last season those days were Valencia's turn to shine.
With Nani out for a few weeks anyway, Valencia has time to bed in once more, and hopefully the two playing together should see us over the line.